It's Monday and I'm ready for some miracles so I hope you all have something to post.
I would like to write more today about Brian and Angie.
I wrote a Miracle Monday post a couple of weeks ago asking you all to pray for healing for Brian who is living with a brain tumor.
It has been a rough couple of weeks. Brian left his job and went on permanent disability and he began to deteriorate further. They made the decision that they were not going to pursue further treatments and that Brian was going to spend as much time as possible at home with his family.
But in the midst of all of this, God was working miracles.
They met with Christian doctor who determined that much of his deterioration could be attributed to fluid on the brain. He placed a temporary shunt in Brian's brain to drain the fluid and because it was so effective, they placed a permanent one on his brain.
The doctor actually prayed with them prior to the surgery! That is so rare and I know it gave them great peace before the procedure.
There were many other miracles that have occurred and Angie outlines them in this post. Please read it.
And please continue to pray the following for Angie and Brian:
For a miracle in Brian's healing.
Brian's speech restored and headaches to subside.
For Brian's white and all other blood counts to stay in normal limits and other minimal chemo side effects.
God's direction and guidance for Brian's medical team.
Renewed emphasis in our spiritual/prayer life.
Brian's right side strength restored and continued healing.
Giving us grace moments of feeling like a normal family - peace and strength.
Please add Brian and Angie to your prayer list and pray all of these things for them.As you pray, please remember that God is a God of miracles and that he has the power to heal Brian.
"But I will restore you to health and heal your wounds," declares the Lord. - Jeremiah 30:17

If you have a miracle you would like to share, it's easy to participate. Just post a miracle on your blog and link it back here using Mr. Linky below.
Please mention "A Mom's Life" and my URL in your post. And if you want, you can use the Miracle Monday button in your post as well.
PLEASE NOTE - when linking make sure to link to your Miracle Monday post. Do not link to the front page of your blog.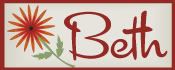 This edition of Miracle Monday is now closed. Please come back next Monday to share a miracle. Thanks!