I'm joining in on the fun over at
Ramblings of a Crazy Woman's
We Made It, Showcase Saturday.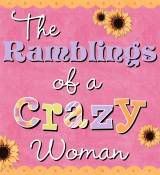 This week Sarah and I made a cute little butterfly. I got this idea from
Janie at Mommy Has a Blog
. Janie participated in Jennifer's Showcase Saturday last weekend.
When I saw this craft, I knew it would be perfect for Sarah because Sarah loves butterflies. But seriously, what four year old doesn't?
But I also knew it would be perfect for me. I don't like messy crafts and this one didn't require any paint and minimal glue so clean up was quick and easy.
Even if you don't have a craft to post this week, head over and check out all the cool crafts the other moms have posted. You might even get a little inspiration for a craft you can do with your little ones.