It's Miracle Monday again so let's get to it!
I know I've written a lot about Brian and Angie but I just can't help myself.
I have often wondered what I would do if I were faced with a situation like theirs.
Would I get mad at God or would I turn to him for help?
Would I push friends and family away or would I look to them for support?
Would I get depressed or would I look for the joy in life?
Would I retreat and hide or would I share it all with the world?
Brian and Angie are doing all the things I hope I would do.
They have put their faith in God but at the same time they are taking help from friends and family.
They are finding joy in simple things like family time, ice hockey games, handstands, new babies and toothless grins.
And through Angie's blog Keep Believing, they are allowing us to see it all - the good days and the hard days.
And through it all, they are still seeing and appreciating the tiny every day miracles of life.
I am asking you today to continue to pray for Brian and Angie and their boys. And if you felt led to do so, please contribute to the fund that has been set up to help support them. (Please see my sidebar on the left).
I am praying for everything that Angie has listed on her sidebar:
For the most beautiful end of days that anyone could possibly experience
For our peace - for Brian's acceptance
For our financial future
For Gavin and Grant - to not fear, to feel normal, to feel at ease and peace. For me to be able to make that happen for them
Renewed emphasis in our spiritual/prayer life
But I am also praying for complete healing for Brian because I believe in miracles and I know that
...nothing is impossible with God. - Luke 1:37
Do you have a miracle or an answered prayer you want to share?
It's easy to participate in Miracle Monday. Just post a miracle or an answered prayer on your blog and link it back here using Mr. Linky below.
Please mention "A Mom's Life" and my URL in your post. And if you want, you can use the Miracle Monday graphic in your post as well.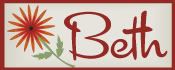 This edition of Miracle Monday is now closed. Please come back next Monday if you would like to link to a miracle on your blog. If you are looking for other miracles, please check our Miracle Monday archives located on the right sidebar.