It's Miracle Monday again and instead of sharing a miracle today, I would like to share with you a new website I've found. (It's new to me, anyway!)
It's the Online Bible Study Tools at Christianity.com.
Some of the features include an online Bible (29 different versions) that can be easily searched, daily scripture, daily devotions, references and how to read the Bible in a year.
You can also highlight sections of scripture and take and save notes.
I've just gotten started using this new tool and so far I'm really enjoying it.
I still prefer holding an actual Bible in my hands but this website is proving very useful for searching and marking and the devotionals are excellent as well.
Check it out! I think you will find it a useful tool in your daily Bible study.
Do you have a miracle you want to share? It's easy to participate in Miracle Monday. Just post a miracle on your blog and link it back here using Mr. Linky below.
Please mention "A Mom's Life" and my URL in your post. And if you want, you can use the Miracle Monday button in your post as well.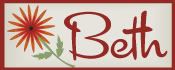 This edition of Miracle Monday is now closed. Please come back next Monday if you would like to link to a miracle on your blog. If you are looking for other miracles, please check our Miracle Monday archives located on the right sidebar.