Happy Miracle Monday!
I'm looking forward to reading about all the wonderful miracles God has performed but first, I'd like to tell you about Kimberly's miracle.
Recently Kimberly was talking on the phone with her mom like she normally does several times a day.
Kimberly was on her cell phone and so was her mother.
In the middle of their conversation, Kimberly heard a strange noise and then silence. When she asked her mom what was wrong, her mom finally responded with, "I've been in a wreck and it's real bad."
And then the line went dead.
Kimberly who lives three hours away from her mom did the only thing that she could do - she prayed and she prayed and she prayed some more!
Finally after an hour of waiting and praying, her mom called and let Kimberly know that she had been in a car accident and the car was totaled but she was fine - not even a scratch! What a wonderful miracle!
You can read all of Kimberly's Miracle Monday post here.
*****************************************************************************
I would like to ask for your prayers this week for Denise. Many of you already know Denise, but if not, please go check out her blog, Shortybear's Place.
Denise is experiencing many health issues. In addition to this, her husband's hours at work have been greatly reduced and he also won't be working for three weeks during Christmas.
But Denise continues to be faithful and constantly praises God through everything.
Denise is a faithful prayer warrior and right now could use our prayers. So please pray for Denise's health and her husband's work situation.
*********************************************************************************
Now it's your turn. It's easy to participate in Miracle Monday. Just post a miracle on your blog and link it back here using Mr. Linky below.
Please mention "A Mom's Life" and my URL in your post. And if you want, you can use the Miracle Monday button in your post as well.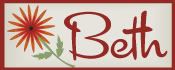 This edition of Miracle Monday is now closed. Please come back next Monday if you would like to link to a miracle on your blog. If you are looking for other miracles, please check our Miracle Monday archives located on the right sidebar.