Happy Miracle Monday!
I am looking forward to reading all your miracles today. So if you want to participate, it's easy.
Post a miracle on your blog and link it back here using Mr. Linky below. Please mention "A Mom's Life" and my URL in your post. And if you want, you can use the Miracle Monday button in your post as well.
PLEASE NOTE - when linking make sure to link to your Miracle Monday post. Do not link to the front page of your blog. If you have any questions, email me and I will be glad to help you. My email address is in my profile.
Have a great Miracle Monday!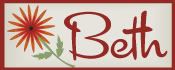 This edition of Miracle Monday is now closed. If you want to post a miracle, please come back next week!