Welcome to Miracle Monday!
Last week, Debra at Clothed In Scarlet, left a beautiful entry about answered prayer.
Debra had gone home for the weekend to visit family and while attending her old church, she ran into an old friend of her daughter's.
She was very excited to see this girl because the girl was at church with her new husband.
In Debra's words,
"This young lady is now secure for God's Kingdom. And you can see the joy on her face. She is transformed. And it is nothing short of a miracle.
I could list for you all of the things she used to be steeped in, but they no longer have a chain on her and it's the miracle of God changing her heart that matters, not the past! And it is the changed life that no one can ever dispute...ever."
Debra keeps a prayer journal and when she got home from her weekend away, she opened her prayer journal and found the entry that she made in 1998:
**prayer entry...Kerrie wants to be married to a man that will come to church with her like Jason does with us.
Debra marked this entry as "answered" on 9/28/1998.
What a wonderful miracle!
Debra faithfully prayed for Kerrie to make a turnaround in her life.
As Kerrie was making this turnaround, she prayed for God to send her a faithful man and 10 years later, these prayers have been answered!
Therefore I tell you, whatever you ask for in prayer, believe that you have received it, and it will be yours. - Mark 11:24
If you have a miracle to share, it's easy to participate. Just post a miracle on your blog and link it back here using Mr. Linky below.
Please mention "A Mom's Life" and my URL in your post. And if you want, you can use the Miracle Monday button in your post as well.
PLEASE NOTE - when linking make sure to link to your Miracle Monday post. Do not link to the front page of your blog.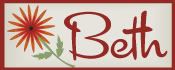 This edition of Miracle Monday is now closed. Please come back next Monday if you have a miracle you would like to share!