Three days before Christmas, 10 year old Taylor was hit in the eye with a pellet from an Airsoft gun. These guns are toys and are marketed as safe because the pellets are soft.
After a trip to the emergency room and a visit with the opthamologist, the doctors determined that Taylor had severe corneal damage and bleeding behind her eye and could not see out of this eye.
She was put on complete bed rest for 5 days. She had to sit upright in a chair for 5 days and she had to sleep propped up.
After the 5 days were up, it was determined that Taylor had a traumatic cataract and she was still not able to see.
Her mom Michelle asked for prayers for Taylor.
After visiting with a retinal specialist, Michelle heard the news she had been praying for.
Taylor was going to be fine!
Taylor will have to wear glasses for a few years and then will have to have cataract surgery but her vision has shown some improvement over the last two weeks and there is no retinal damage.
Thank God for answered prayers!
Do you have a miracle or an answered prayer you want to share? It's easy to participate in Miracle Monday.
Just post a miracle or an answered prayer on your blog and link it back here using Mr. Linky below.
Please mention "A Mom's Life" and my URL in your post. And if you want, you can use the Miracle Monday button in your post as well.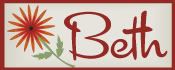 This edition of Miracle Monday is now closed. Please come back next Monday if you would like to link to a miracle on your blog. If you are looking for other miracles, please check our Miracle Monday archives located on the right sidebar.